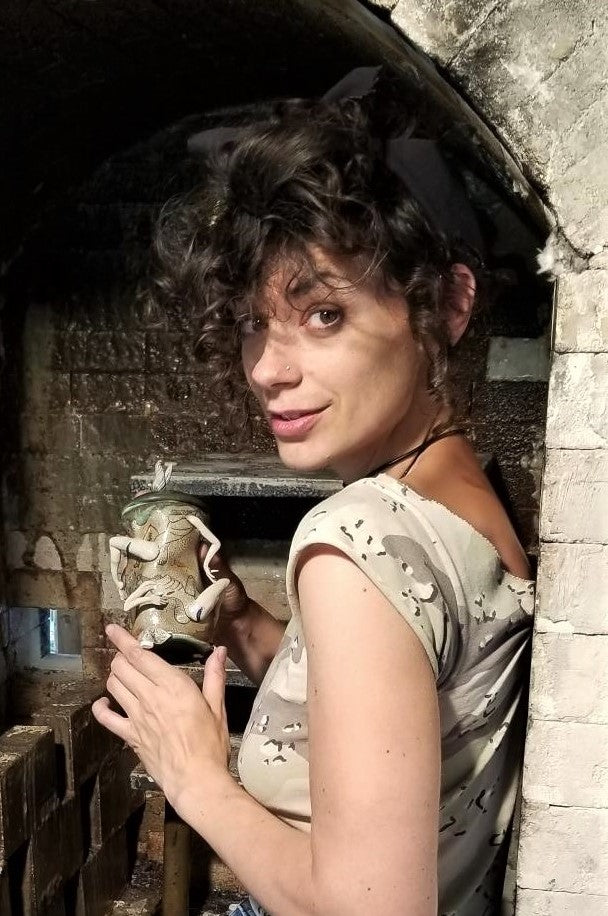 C.A.Traen is an American sculptor and illustrator.
C.A. "Cat" Traen is a international teaching artist working in clay since 2002, leading to a BA and MEd from University of Nevada, Las Vegas. Motivated by enriching others through community building and collaboration, Cat has mentored thousands of students and teachers to equip and ignite the next generation in clay.
Since relocating to Memphis in 2017, Cat serves as faculty in the ceramics department at University of Memphis and is finding her way as an educational consultant for regional school districts with a mission to support start-up clay programs at underserved public schools.
Internationally active since 2015, Cat teaches workshops, exhibits, and is collected in the US, Europe, and Asia. Notable awards include Bronze Medal in the 2020 International Gold Teapot Prize in Taiwan and Silver Award in the Fu Le Ceramic Arts Museum Emerging Artist Exhibition in Fuping, China.
Beyond her work as an emerging international teaching artist, Cat and her husband and partner, Robert LaWarre III are developing a clay-focused art organization to connect people and expand professional opportunity worldwide through clay.
Artist Statement
C.A.Traen creates ceramic sculpture and vessel forms using a variety of forming methods ranging from hand sculpting, mold making, wheel throwing, and soft slab construction to reflect the conceptual content of each body of works.
Figures constructed from individual parts are reminiscent of the industrial fabrication process used to produce children's poseable "action figure" toys. This process allows uniform scale and proportion for intriguing replication and dynamic postures that comments on today's fast-paced, technology driven lifestyle.
Richly textured soft slabs construct vessel forms while weaving a narrative tapestry of layered impressions from found objects that develop conceptual and emotional meaning in the moments they are pressed into the wet clay.
Highly graphic and stylized line drawings of nudes, insects, plants and other "wild things" depict expeditions of innermost thoughts, attitudes, and memories and how they fit into our everyday chaotic existence.
Dripping, flowing, and fractured candy colored glazes set off rich neutrals antiquing the deepest textures to create an unexpected lens to view the impressed and marked clay surface, hinting at an alternative point of view afforded by optimistic perspectives, as even the most mundane task can become a wild adventure by simply changing how it is perceived.